First off, can we just all agree that Brad Pitt is not hot anymore:
I mean, that just wreaks of middle-aged man past his prime still trying too hard to look hip and cool. So, so sad Brad. But since this is a fashion blog, I guess I should also comment on what he's wearing. I actually like this gray suit paired with the white v-neck tee. Very French-chic (which is appropriate because this was taken at the Cannes film festival). What I do NOT like is that white belt. I am firmly anti-white belts on men. And on women for that matter. A nice cognac-colored belt would look much more sophisticated and not like he swiped it from his oldest son's closet.
Now that we've gotten that out of the way… as you can probably guess by the title of this post, I am officially 100 posts into this little bloggy adventure of mine.* So I thought now would be a good time to look back and reflect on some of the things I've learned and loved both about myself and about you kids over these past several months.
*I'll confess I was v sad to realize – after the fact, obvs – that my actual 100th post featured a picture of Britney Spears at her near-lowest. So to make up for it, here's a picture of Ryan Gosling at his smoking-hottest. You're welcome.
Thing I've Learned No. 1 – You kids agree much more often than I expected you would. There have been 6 unanimous loves, including my very first post about this shoe:
And apparently you guys weren't alone because this shoe sold out before I could buy a pair for myself. I think of them often and weep for what will never be.
Also, surprisingly, there has only been one unanimous "no" vote – on this skirt:
And to that I say well done.
I was convinced this post would elicit a second unanimous "no" vote, but two of you actually like this swimsuit: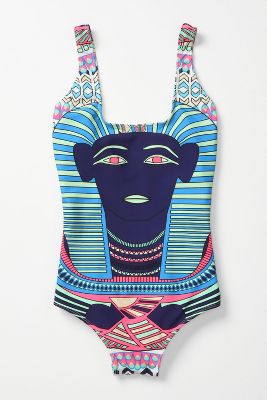 I demand that you identify and explain yourselves immediately.
Thing I've Learned No. 2 – People are really passionate about clothes with animals on them. This post about the Charlotte Taylor camel dress has gotten the most comments of all of my posts so far. Including this comment which is ostensibly from the designer herself:
Charlotte Taylor
October 21st, 2011 at 9:17 am | edit
Hi Shea, thank you for your honest post on one of our dresses from the CHARLOTTE by CHARLOTTE TAYLOR collection for Anthropologie. I am sorry that you do not appreciate the irony and quirky, clash factor of the Camel Print dress – I do not think that a collection can ever appeal to everyone and I fear that you will never become a CT customer, much to my disappointment. Good luck with your blog.
All the best, Charlotte Taylor
And even though the original post is from way back in October, I still get comments on it fairly regularly. Including this one from earlier this week:
anthrolover
May 23rd, 2012 at 10:05 pm | edit
you'll never know until you try it. i never saw it on the website, i saw it in the catalogue and LOVED it on the model. tried it in the store and just had to have it. i've gained over 20 lbs and the dress hides them! i don't know how, i don't even need spanx. it was gorgeous then, it is still gorgeous and ironic. can be styled many different ways but you must be creative. i'm actually glad anthropologie failed to photograph it well on their website, that's how a $228 dress became affordable at 50% for everyone who was willing to take a risk.
And while I'm not really sure why she felt the need to confess her 20-lb weight gain, I really do appreciate her and everyone else taking the time to share their opinions about a BRIGHT ORANGE DRESS WITH PINK CAMELS ON IT.
Thing I've Learned No.3 – Having a blog that requires you to spend large amounts of time looking at clothes and shoes is bad for your wallet. I've purchased quite a few things that I've featured on the website. Like this skirt: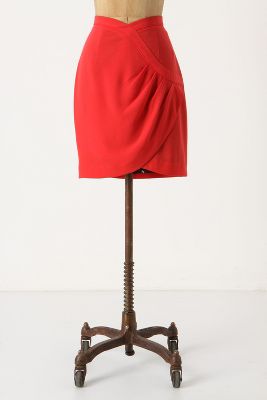 Which was so gorge but I ended up returning because it turns out I was justified in my concern that my non-defined waist would ever fit into that shape. And this dress which also got returned because it did, indeed, look like baby poo. But I have been more successful with some of my other purchases featured on the blog. Like this tunic:
Paired with black leggings, knee-high boots, an open, swingy plum-colored cardi and a fun pendant necklace, this tunic became a staple of my Fall/Winter 2011 wardrobe. But I think my favorite item from the blog that I ended up purchasing was this coat:
Now I didn't get the yellow one because I could never pull the trigger on spending $258 for a yellow peacoat, and by the time they went on sale they were out of my size in the yellow. (Of course) But while doing some pre-Spring shopping sometime in February, I came across one last peacoat in my local J Crew in this gorge purple color:
Between an end of season markdown and an additional 30% off sale that weekend, this coat was priced at $96, and there was literally one left…. and it was in MY SIZE. Huzzah!! Needless to say it came home with me immediately. Lesson learned: good coats come to those who wait.
Thing I've Learned No. 4 – I really do love to win. And I am happy to report I am still winning this war.
And now for the most important thing Thing I've Learned since I started this blog: how much I appreciate and LOVE each and every one of you kids who takes the time to read, comment and vote. Without y'all this would just be "Things Shea Loves and/or Hates and Writes About but No One Ever Reads" so thanks for keeping that from being a reality. Here's to 100 more posts full of fashion and judgement. Happy Memorial Day Weekend, kids!!!