Merry almost-Christmas everybody! I hope Santa brings you all of the fashionable things you've asked for. And on the off chance you asked for Crocs, I hope the elves set them on fire.
A quick google reveals I am not the only one who wishes for this.
So my last post was inspired by my friend Emily who asked for Ugg alternatives. This post is inspired by my new co-worker Judi and the 45-year-old woman who looked like a hooker waiting at our gate in the Cleveland airport last week.
Now sadly, I did not get any photographic representations of this woman so you'll just have to trust me when I say it was not good. Let me ask you ladies out there – what do you wear when you travel? Maybe jeans and a comfy sweater? Maybe lots of layers so as to be prepared for the random temperatures of your airplane cabin? Perhaps a business suit if you're going straight to a meeting when you land?
Not this lady. She wears black hose, knee-high, plastic, black boots, a black shirt unbuttoned low enough to get a healthy dose of "the ladies", and a black skirt so tight and short that I wouldn't want to be the one sitting in the airplane seat after her. And the craziest thing is that when she turned around, she was not young. I'm estimating 45, but she could also be a really hard-living 30 year-old. I am terrible at guessing ages.
I tell you this very long-winded story because it lead Judi and I into a discussion about age-appropriate attire. Judi  is looking for a way to be stylish, chic and age-appropriate while also staying a little funky and true to her personality.
Soooooo…here's how I would do it. I would like to point out that I think these outfits would be chic for women of just about any age, but I'm specifically looking at that 40-55 age group (Or so. Again – terrible with ages.) I've got three pieces two ways each for you to peruse. Up first, the J Crew Bonne Chance top: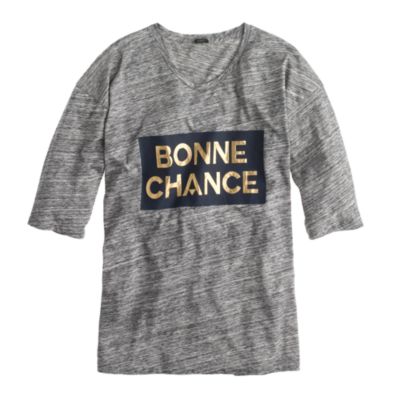 J Crew Bonne Chance Tee – $42.50 and currently 30% off!
"Bonne chance" means "Good luck" in French. And good luck not loving this adorable shirt! (Wah-wah)
And here's two ways I would style it – one for work, and one for play:
There are several ways to make your outfits fun, but age-apprpriate. The first is color. I love the combo of this burgundy blazer and blue skirt. I think it is kicky and perfect for a more creative office environment.
And I know lots of you are going to fight me on those leopard sneakers, but I'm here to tell you they are my jam. And pattern is the second way to personalize your outfits at any age.  I'm seeing this t-shirt tucked into a higher waisted pant with a little bit of volume in them for a casual Saturday. And trust me when I say those shoes are more versatile than you think – I'm also seeing them with a crisp white button-up tucked into a pair of dark wash denim with a fabulous belt and big chunky, gold jewelry.
Up next, the Vince Shift Dress:
Vince Shift Dress – on sale for $372
I recognize this dress is pricey, so if you're not in the market for making an investment purchase, you can keep an eye out for a more affordable shift dress with the same basic principles. Above the knee, three-quarter-length sleeves, simple, and in a darker color that is NOT black (think burgundy, plum, navy, hunter green).
And here's how you take a chic, timeless piece and make it your own:
The third way to personalize an outfit is with killer accessories. And Judi's accessory game is already on point, but we could step it up a notch with this bold turquoise necklace and lots of big, shiny baubles for a night out on the town.
But accessories don't just have to be jewelry or shoes or handbags. In this case, I consider the vest on the left and the coat on the right as unique accessories that will separate Judi, and the rest of you, from the pack. Again, if you're not in the market to invest in a statement coat from DVF, look for a less expensive version with some sparkle and shine.
And finally, the Shibori Peasant Top by Gypsy 5: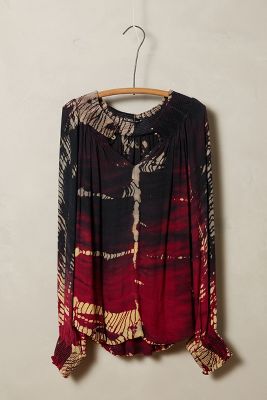 Before we talked color, so now let's talk neutrals:
Neutrals can be chic and funky, too. This one is a little bit country and a little bit rock and roll. On the right, the coolest outfit ever to wear out to dinner with the husband. Or to a gallery opening. Or to a really chic children's dance recital (Okay, maybe not a dance recital. But you'd be the coolest mom there, so yeah, dance recital.).
That black leather jacket could change your entire wardrobe. And like we've talked about before, leather is worth the splurge. Think about how great this jacket would look over the shift dress above with some black ankle booties. Or over the Bonne Chance t-shirt tucked into a black pencil skirt for another bad-ass date night outfit. It would look SO great. And it would, therefore, be SO worth it.
And those are my suggestions for how to be fashionable, funky, chic, and age-appropriate. There are options out there other than grandma or teenager so take advantage and report back! Merry almost Christmas, kids!!