OH MY WORD Y'ALL  – TODAY IS THE FIRST DAY OF SPRING!!! As with every year,  I seriously thought this day might never come. But FINALLY the days are getting longer, the sun is shining brighter and my heart is, therefore, singing a little bit louder (but luckily for you kids, only on the inside).
And now here is where I confess there is one thing about Winter I will actually miss – wearing my boots. Boots are the ONLY good thing about cold weather and I will truly miss them when it's time to box them up and store them in the spare linen closet (What? You don't keep your boots in the linen closet??).
But putting away my boots and closing the linen closet door on my Winter shoe wardrobe means it's time to start thinking about my Spring and Summer shoe wardrobe.  Hooray! After evaluating my current stable of Spring shoes, and in keeping with 2013's theme of "quality over quantity", I've decided to invest in a new pair of "neutral" pumps to add to my Spring and Summer work wardrobe this year. And after a little website perusing, I've settled on the Etta pump from J Crew.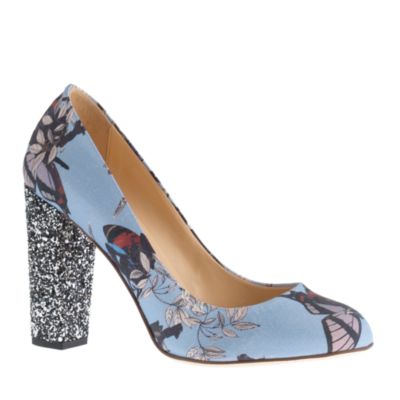 But sadly not this particular pair because 1) as much as I love a good bird print / glitter combo, they wouldn't be very versatile and, 2) everyone else loved them, too so they're already sold out. 
I decided on this style for a few reasons. First, I've been feeling very "girlie" in my style choices so far this Spring – lots of florals, pinks and polka-dots are tickling my fancy – and the rounded-toe and stacked-heel combo lend this shoe a retro, ladylike vibe that I think will complement that nicely. Second, the stacked heel is comfy and easy to walk in. More importantly, even though it's 3 3/4 inches, it is work appropriate – because I work in courtroom and not on a street corner.
So since we've (oh so sadly) ruled out the awesome bird pair above, let's take a look at the three pairs of Etta pumps I'm considering for Spring –  starting with the most neutral of the bunch: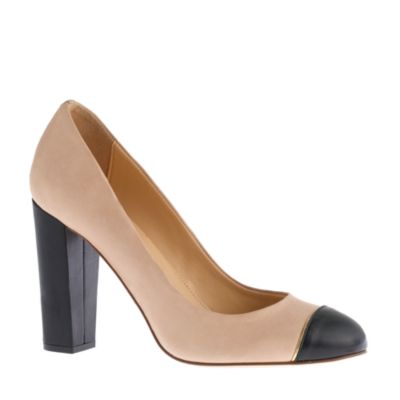 J Crew Etta cap toe leather pump – $248
Pros:  These are seriously neutral and, therefore, also seriously versatile. The cap toe and gold accent add a bit of visual interest. And these would probably be in style forever.
Cons: They may also be seriously boring. Yes, I could wear them with all manner of black suit pairings, but I already have a pair of nice, similar-looking, black pumps I bought last fall to fill that role.
Next up: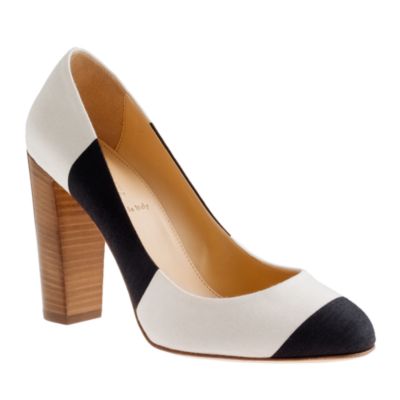 J Crew Etta canvas stripe pumps – $250
Pros: So stinkin' cute I could die. Love the stacked-wood heel. Love the black and white. LOVE THE STRIPES.
Cons: Not quite as versatile as the previous pair. Yes, the colors make the pair wearable, but I'm a bit concerned the canvas might be a little too casual to wear to court making this pair less versatile than the previous one.
And finally: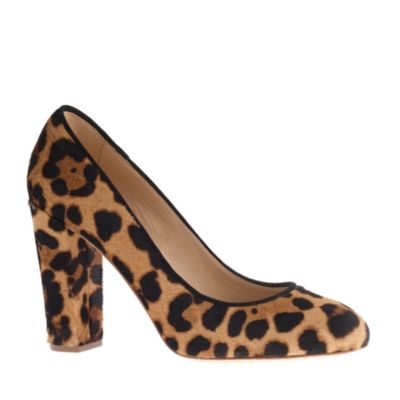 J Crew Etta calf hair pumps – $350
Pros: Leopard print.  That's really the only pro I need.
Cons: $100 more expensive than either of the other two pairs. But I did wear the beejesus out of my previous pair of leopard pumps – so much so they've developed a tiny, white bald spot on the toe – so I know the cost per wear would probably justify the increased price.
I legitimately love all three pairs of these shoes, but quality over quantity means I can only get one of them. That's where you come in.
HAPPY SPRING Y'ALL!!!