Despite the glorious return of college football and the truly gorge weather we've been having the last few days, the return of Fall is making me really sad – because it means Summer is officially over (Insert frowny-face here). But a part of me always feels a little sorry for Fall because retailers apparently forget that it exists altogether. They're all "Today = tiny swimsuits. Tomorrow = heavy coats!" And nowhere does Fall present a greater fashion challenge than in the Deep South where the temperatures stay in the 80's well into October.
So how is a girl supposed to prepare for the coming Fall-pocalypse without spending a fortune on clothes she'll just have to shove aside when Winter finally arrives sometime in mid-December? One way is to arm yourself with a skirt like this one: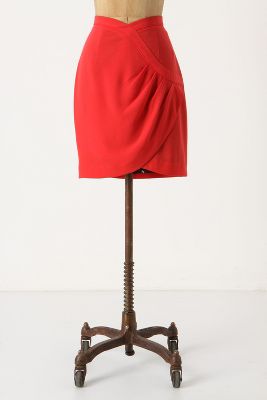 (Get it here but don't buy all of the ones in my size because I saw it first.)
Here's how I would wear that skirt now:
Ankle boots = great way to transition from summery sandals without getting the dreaded sweaty calves. Marc Jacobs bag = perfect gray color that can be your neutral bag all the way through the Spring. And pendant necklace = obviously.
And here's how I would wear that skirt later:
Knee-high boots = because now your calves are kind-of chilly. Marc Jacobs bag = because you paid a lot of money for it and it's still gorgeous. Navy boyfriend blazer = because you should already have one in your closet by now. Lace top = to add some girly details to the structural nature of the skirt and blazer. And dangly earring = to add some color and visual interest by your face.
So what do we think of the Leifsdottir Sloping Skirt? Do we think it's a good transitional piece to keep in the closet? Do we think we would like it more in black instead of red? Do we think that I'm delusional and there's no way my waist will fit into that skirt?
Don't be shy – help me decide.