Do you want to hear something shocking? I mean, other than the fact that I'm actually posting on this blog for the first time in what feels like a decade. The real shocking thing is that April is three days away and this past Saturday was my first Spring shopping trip of the season. I. Know. And while I've obvs been doing plenty of online ogling and magazine flagging for Spring and Summer pieces, when I started perusing the stores I was a little overwhelmed.
By all of the ridiculous pants.
Specifically all of the crazy, printed pants at Anthropologie. Now I'm not totally averse to a printed pant. I fell in love with these and despite initial hesitations, I think I ultimately like this pair, too. But that might be where my warm fuzzy feeling for printed pants ends. Especially when I saw things like this: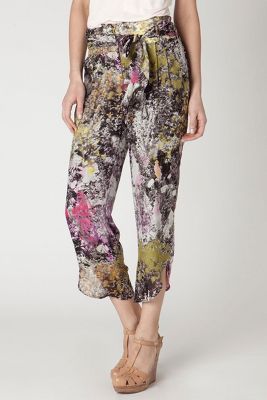 Leifsdottir Crushed Chrome Crop – $198
Contrary to what you might initially believe, these are NOT pajama pants. If they were pajama pants I would find them totally adorable – way overpriced for pajamas, but totally adorable nonetheless. As actual pants, however, I find them to look like something Blanche Devereuax would wear in Coral Gables.
Speaking of the Golden Girls: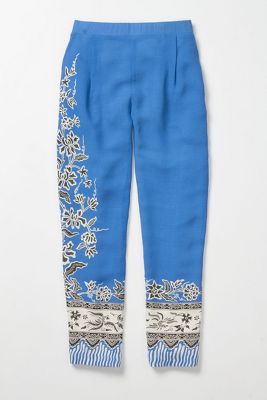 LeifNotes Blooming Perennial Crops – $118
Is there any way that Rose Nylund did not own a pair of these? (Notice I said Rose and not Betty White. Betty herself is WAY too cool to ever wear these pants.)
Are the above pairs too hip and trendy for your tastes? Try these high-waisted nightmares: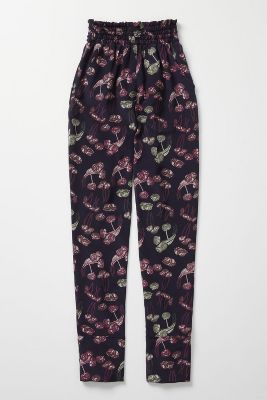 Rachel Comey Ranunculus Silhouette Crops – $98
Oh the high-waisted, pleat-front pant. Has there ever been a less flattering silhouette for a woman's body? Also, let us all take a moment to notice these pants were originally $388. I'll give you a minute to let that sink in.
Now that you're fully incensed, let's take another minute to give kudos to whomever  decided to lower that price tag by 75%. I mean, I still won't be buying them, but at least now I don't want to go to the store, find a pair of these and light them on fire in outrage.
And this pair: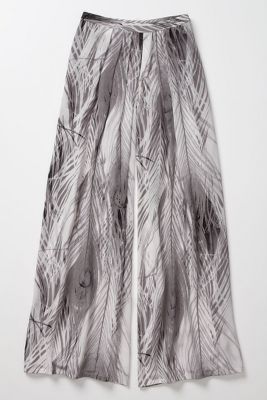 Leifsdottir Manipur Palazzos – $148
Maybe if you…. or if you wore them with…. or you were going to….  No. I just can't.
Now that we've seen the worst of what Anthro has to offer in the way of printed pants, lets take a look at some of the best. I like these: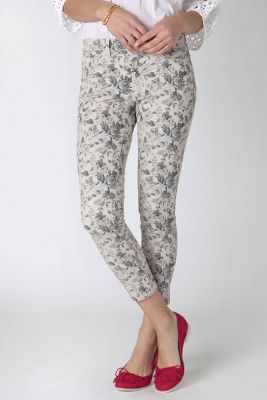 J Brand Mini Floral Skinny – $202
If you want to dip your toe into the printed pants pool, I think this pair is a good way to start. They've got the on-trend floral pattern, but in a neutral color palette. Try these with a brightly-colored tank top or a gauzy white shirt.
This pair combines two of our fave trends for Spring: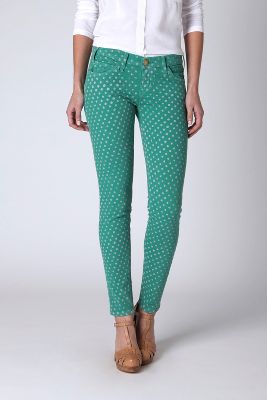 Current/Elliott Polka Dot Stiletto Crops – $218
Colored denim? Check. Polka dots? Check. Requisite adorable factor of 10? Check. Love the idea of these paired with white tank and sunny yellow cardigan.
Finally, against all reason and taste, I love these, too: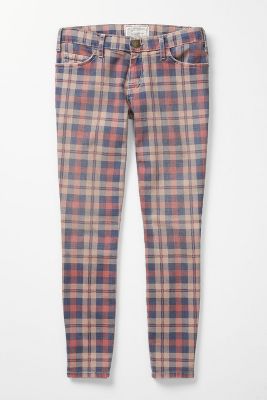 Current/Elliott Stiletto Crops – $188
I don't know why I love these. I totally acknowledge that they are full-on Payne Stewart golf pants. But I just can't help myself. They hold some sort of magical power over me. They've almost convinced me I need an orange mullet shirt to wear with them: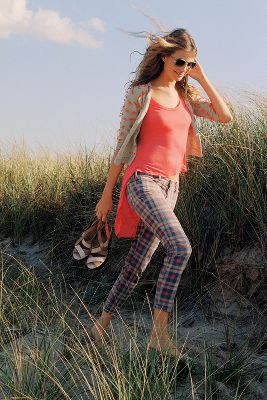 I said almost.
But how are you feeling about printed pants this Spring?