I remember the first time I broke the $100 barrier for a pair of jeans. Weirdly they were purchased at Arden B – now the shopping mecca for Jersey Shore-aspiring club girls everywhere –  back in 2004 when I first moved to Nashville. Even weirder is the fact that I still have and wear them. In hindsight $100 pro-rated over 7 years is a pretty good deal. But at the time, after many, many college years spent in $50 jeans from American Eagle, $100 was a pretty penny for a pair of basic blue jeans.
Since that time I've learned that there is no amount too great to pay for a pair of classic, well-fitting, blue jeans. Given that I usually have to go on an expedition of Indiana Jones-esque proportions  in order to find said pair of jeans, I don't usually have a problem paying whatever the retailer is asking once I find them.
I do, however, have a problem paying significant money for trendy denim that will go out of style next season. With that in mind I present to you these couch pants: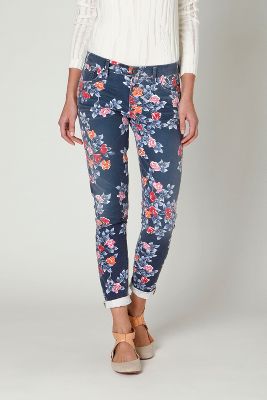 Citizens of Humanity Thompson Pants – $185
Now I'm sure that Citizens of Humanity would prefer that I not refer to these as 'couch pants' but that's what they are, right? Pants that look like they were made from your grandmother's couch cushions?
Here's the kicker – I kind of, maybe, might love them anyway. (Hangs head in shame) But imagine how feminine and fun they could look with a gauzy white top and pair of gold flat sandals this Spring. Before you think I've gone completely crazy, I would like to point out that I seriously HATE the neutral-colored option: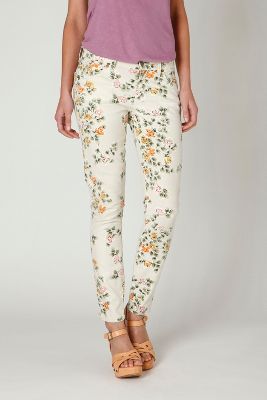 These are worse than couch cushions. These are your grandmother's old bedspread. (And yes, somehow that's worse in my brain.)  So you can sleep soundly tonight knowing I haven't completely lost my mind.
I'm definitely not going to be spending almost $200 on floral denim – but I might keep an eye on them to go on sale. What do you think?