I have, on more than one occasion, noted this blog is called "Do We Love It" and not "Things Shea Loves and/or Hates and Tells You About." And that's still true. But I have also, on more than one occasion, been asked by friends how I make my wardrobe purchasing decisions – or in layman's terms – why do I buy what I buy. So being the selfless soul* that I am (ha!), I thought I would start sharing my thought process on some of the new pieces I'm buying for Fall 2012.
First up:
The What: 7 For All Mankind The Skinny Jeans in Wildflower Print
The Price: $189 via Piperlime (In my defense, I bought them using a 20% off coupon so they were actually around $150 for me.)
The Why: I'm sure you all remember when we previously discussed printed pants. Since that time, the idea of printed pants, especially a printed jean, has really grown on me. Which is a good thing because now they are everywhere. So naturally this means I became obsessed with having a pair.
From the get-go I had my heart set on a floral pattern. And at first I contemplated a pair in a more subtle, or neutral palette, like so: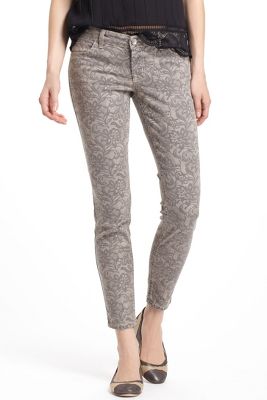 Level 99 Janice Lace Skinny – $125
And those are, no doubt, very cute. But ultimately I decided there's no point in buying a pair of printed jeans that no one can tell is printed. Still, I was hesitant to pull the full-color floral trigger. But while the pattern is bold and they are plenty colorful, the 7's are still ultimately made up of a pretty neutral palette of navy, tans, dark purple and a little bit of army green. I thought they could potentially be both versatile and awesome.
When I ran the idea past Brown-haired Shea, she wisely pointed out the 7's are a pretty bold statement piece and I might not be able to get as much wear out of them because they would be so memorable. That caused me to pump the brakes a little. While everyone loves to have a signature look, no one wants to be the girl who wears that same pair of pants all the time. Maybe the price was a little too steep for something I could really only get away with wearing once or twice per month.
But I capital-L loved them. And the more I thought about them, the more they reminded me of another purchase I had made earlier this summer with spectacular results: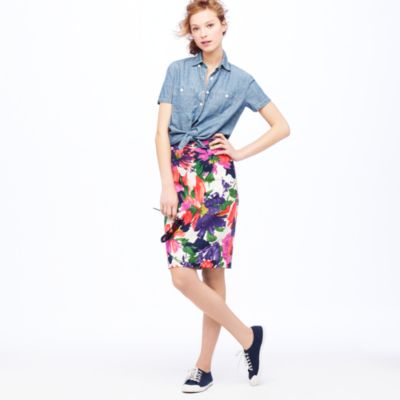 J.Crew No. 2 Pencil Skirt –  currently on sale for $90 (although I practically stole mine for under $40 at an earlier summer sale)
This floral pencil skirt has been a wardrobe all-star for me this summer. It's a bold pattern, but on a classic shape. I've worn it five times this summer and not once have I repeated what I wore with it. And off the top of my head I can think of at least three other ways I can wear it. This skirt, like the 7's, is memorable, but versatile, and that makes it a winner in my book.
Here are a few ways I'm already envisioning working these memorable pants into my Fall wardrobe.
The How: First I should admit these "skinny jeans" are tight. And I mean tight as in "really snug leggings", not tight as in "off the chain." (Although they are also tight like that, too.) I'm not sure I'll ever be able to wear these to my office, even on a casual Friday. But if you work in a more creative or lenient office environment, they sure would look swell paired with a navy blazer, loose cream-colored shirt and brown knee-high boots (all of which I already own – hooray for wardrobe recycling!!).
The How: I'm picturing this look as a fun date-night outfit (This is assuming I ever have a date again, ever. Which given the man-situation in Nashville is not looking likely. Am I right Nashville ladies???) I would leave the blouse un-tucked and the leather jacket open. Throw on some platform pumps and add the delish orange clutch that pulls out the same color in the pants, and you would be one stylish chica.
And finally,
The How: This is how I envision wearing my sassy pants on a cold day come Winter. The top picks up the purple in the pants and you can never go wrong with a classic navy peacoat. Plus I think I'm also loving a mid-calf, lace-up flat boot as a casual wardrobe staple this Winter. I'll let you know if (who are we kidding) when I buy some.
So that's why I bought a pair of floral skinny pants for Fall/Winter 2012. But lest you think I plan to pack these beauties away until the leaves start to change, I plan to wear these in the near future with a navy blue t-shirt, long pendant necklace and gold flat sandals. I can also wear them with a loose chambray shirt and my cowboy boots. Or one of my five hundred cream-colored lace tops and a pair of ballet flats. Moral of the story: bold statement pieces CAN be a versatile addition to your wardrobe. Buy what you love, love what you buy.
*And just because I AM such a selfless soul, I'm giving you a chance to weigh in.