It's Friday kids! Hoo-freakin'-ray!! I'm so happy it's almost hard to be judgmental – I said almost.
But before we get to the judging, I ask that you indulge me for a few paragraphs while I wax rhapsodic about yoga. Specifically hot yoga. I know I've mentioned my love of yoga before, but that was in the early days of both this blog and my yoga practice, so I thought it was time to revisit that love.
Simply put, yoga has changed. my. life. How? Well first of all, it's helped me lose weight. And more than that it's helped me get and feel healthy from my head to my toes. But second of all, and more importantly, yoga has connected me with an inspiring community of fellow yogis helping me to form some amazing friendships with people I would never have met without it. There is almost nothing better than the feeling of moving and breathing as a class  – when you can feel the energy from those practicing around you pushing you to do more and be better.*
*And yes, I realize how cheesy and new age-y that sounds, but it's true. And I don't care what you think anyway because I'm so very enlightened from all of the yoga. So there. 
And if you are lucky enough to live in Nashville you are lucky enough to live near Hot Yoga Plus. Each and every person at that studio – from the awesome instructors to my phenomenal fellow practitioners –  has helped me to be not only a better yogi, but a better person. So if you are one of those lucky folks, get thee to Hot Yoga Plus ASAP. You might struggle through some of the postures, you will definitely sweat through all of the classes, but you will never, ever regret it.
END OF RHAPSODIC WAXING
Back to the judging – which is ironic because one of my favorite things about practicing yoga is the lack of judgment you feel from the other yogis while you practice. This is in stark contrast to say, the YMCA or any other gym I've ever been to where I always felt like someone was watching/judging me at all times. But if someone showed up to the yoga studio in this, I'm not going to lie, there would be LOTS of judging: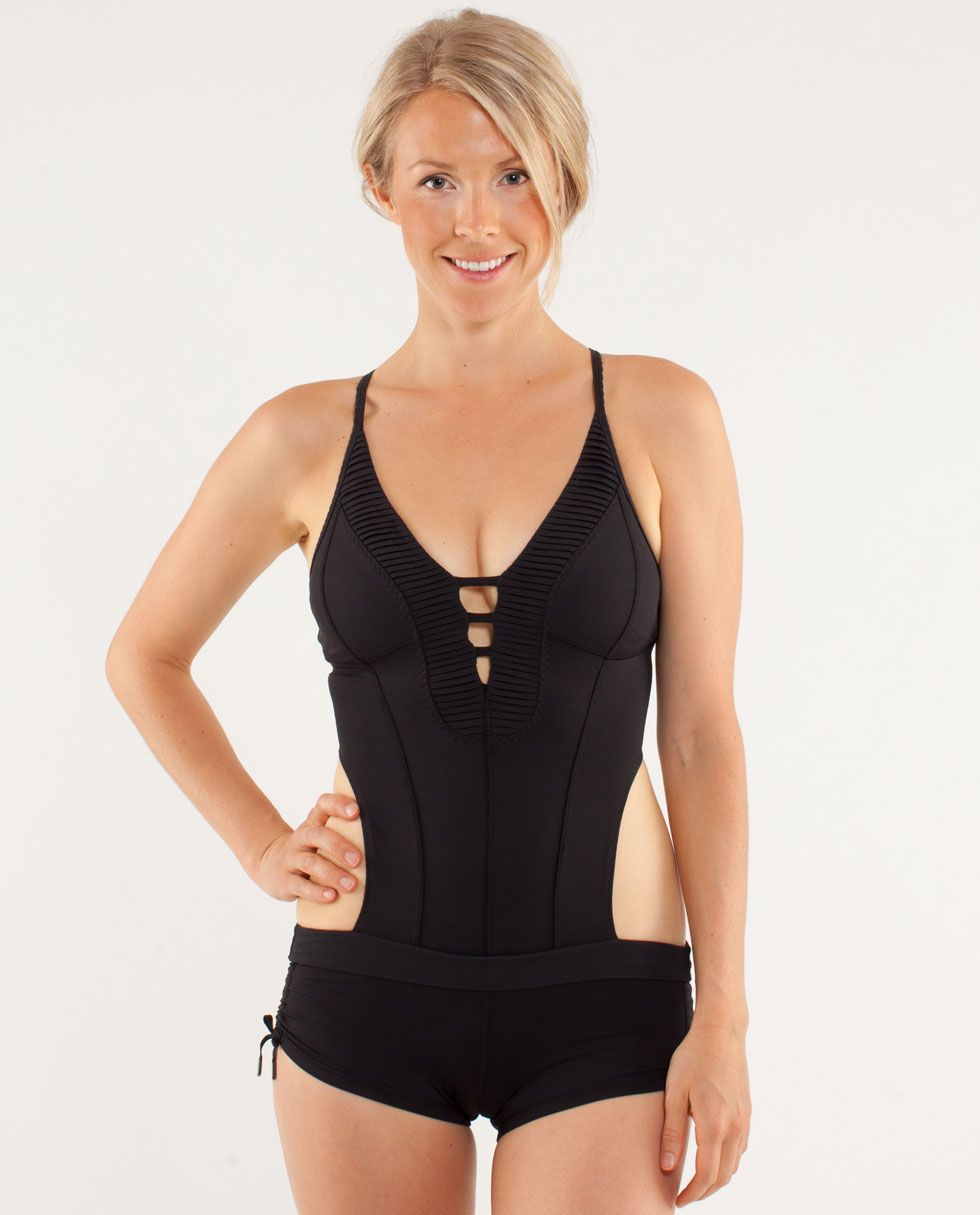 Lulu Lemon Hot Spell One Piece – $88
Yoga, as I'm sure you're aware, involves a whole lot of bending and stretching. And when you bend and stretch, a lot of things move around. Like, for example, your boobs. And the bottom of your shorts. In this thing, there's not much room for error in either of those areas. So let's take a look at this one piece in action: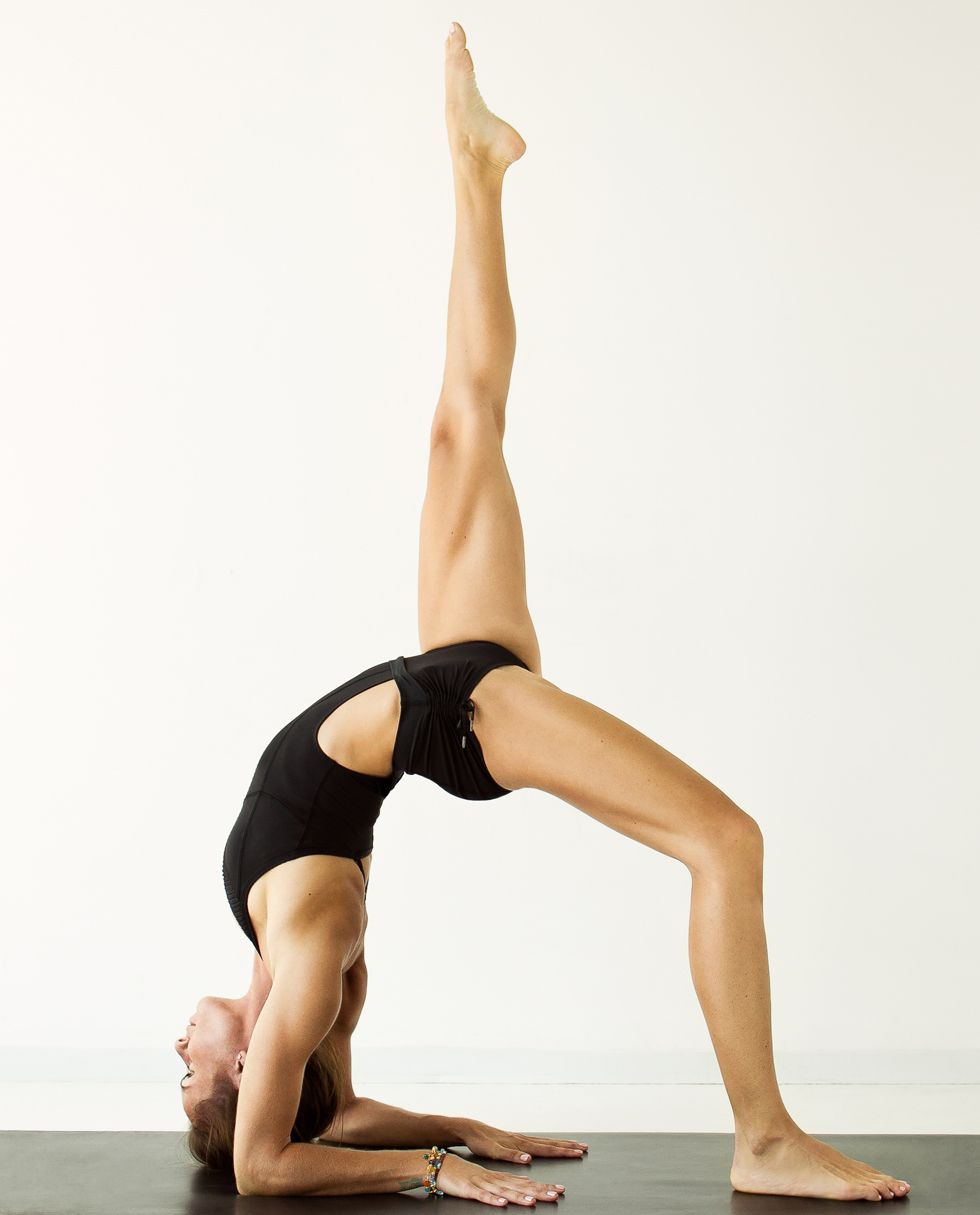 Let me be clear – I cannot do this. But if I could do this, I would not want to do it in this outfit. And I'm pretty sure the person on the mat behind me wouldn't want me to do it either (unless that person is a disgusting pervert). I generally practice in some sort of tank top and capris or leggings. But if your practice is so inhibited by that amount of cloth on your person, you can wear a sports bra and shorts. That is completely respectable (provided you do not spill out of that bra and shorts like the Michelin Man). There is no reason to dress like a hoochie.**
**Aside: I love Lulu Lemon. I own a great many of their products and have been very satisfied with all of them. So Lulu, if you're reading this, please do not be mad at me. I just hate this one thing you made and I hate it a lot. Perhaps my hate could be lessened and/or eliminated with some free merch.***
***But no pressure.
So far an informal polling of my fellow female yogis has resulted in a unanimous thumbs down to this latest Lulu creation. But what do you think??