Happy Good Friday kids! I hope you're all getting to enjoy a beautiful day off with your loved ones while I am stuck at my desk.*
*I realize that sounds seriously bitter, but I mean that sincerely. If I'm gonna be stuck at work today it would at least bring me joy to know that you are not.
Let's start our holiday weekend off with a blast from the past. Who else remembers these: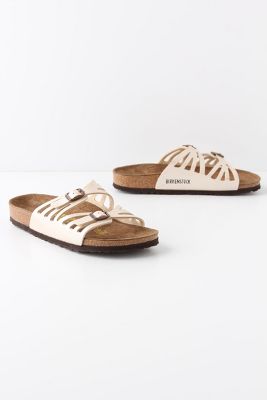 I certainly remember having a near-identical pair in my closet while I was in college. I remember wearing them with everything. I also remember my Mom telling me how ugly they were and me vigorously defending their sartorial worth.*
*I was obvs young and stupid. At least now I can freely acknowledge that my Uggs are hideous while I wear them.
But why did I bring us this blast of late 90's nostalgia on this Good Friday? Because I found them for sale again in a most unlikely place. That's right, Anthropologie  – aka the land of all that is good and pure, aka the place where all of my paychecks go to die, aka the mothership – has picked these up for Spring. In a variety of colors, no less.
Does this mean Birkenstocks are cool again? Or is this just another rare bad blip on an otherwise near-perfect Anthro track record?