By this point, you should all know my friend Emily. And if you don't, you should get to know her – she's awesome. (And I swear I'm not just saying that because she is basically Brown-Haired Shea thereby making me awesome by extension.)
This is what Emily would refer to as a "Big Girl Shirt"*:
Bellatrix Long Sleeve Blouse – $78
*And by "Big Girl Shirt" she means a grown-up shirt – not a shirt you wear when you're feeling fatter than usual.
"Big Girl Shirts" are what most of us would refer to as silk blouses. And my dear friend Emily recently confessed to me that she is afraid of them. Not afraid of them as in 'they will come to life at night, venture out of my closet, and stab me in my sleep' afraid of them, but afraid of them as in 'I have no idea how to wear them' afraid of them.
I was genuinely confused by her confession. To me, you wear silk blouses like you do any other shirt – with skirts or pants and layered under cardis and jackets when you need a little extra warmth. But Emily's confession got me thinking – if she is intimidated by "Big Girl Shirts" maybe others are, too, and unjustly so.  Every girl should have at least one BGS in her wardrobe. They're super-easy to dress up for work or dress down for the weekends. For example, here's how I would wear the one above:
To dress up – balance out the flowy nature of the skirt and top by adding a structured blazer and tough-girl ankle boots.
To dress down – leave the top un-tucked over skinny jeans and toughen up the girly floral with a kick-ass leather jacket and a striped scarf in the same color palette as the BGS.
And because I can't bear the idea of the BGS getting a bad rap, here are two other BGS-es I'm loving and how I would wear them. First up:
JCrew Silk Pintuck Blouse – $128
And here's how I would wear it:
To dress up – I figure we can still get a few more weeks out of the color-blocking trend so tuck this BGS into a brightly-colored pencil skirt, add a neutral trench and bag and don't forget to toughen up the look with a chunky gold necklace and leopard-print booties.
To dress down – leave loose over black skinny jeans tucked into your fave pair of brown ankle or knee-high riding boots and keep the accessories simple by adding a multi-colored charm necklace.
And finally: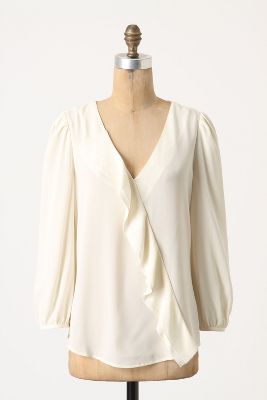 Maeve Halfsies Blouse – $178
And here's how I would wear it:
To dress up – I kept it straight-up girly with this one by pairing it with a 1950's-inspired patterned skirt with pastel shoes, a pink bag, and delicate silver earrings.
To dress down – tuck this blouse into a pair of boot-cut jeans, add ankle boots, a fun detailed belt, a wrist full of bangles and top off with your fave brightly-colored loose cardi.
So for all of you Emilies out there, face your fears and embrace the BGS – I promise it will embrace you right back.*
*And I don't mean that in a creepy, trying to squeeze the life out of you kind of way.  🙂