Kids I think I'm experiencing some serious holiday brain this December as I find myself inexplicably loving things that would ordinarily cause me to gasp and recoil in fashion horror. For example, last night at a Christmas concert I confessed to my friend that I was IN LOVE with a guy's red and green plaid blazer. For a visual it looked kind of like this except the red and green were even more vibrant:
I mean seriously. There is zero chance that if I saw this guy wearing a bright red and green plaid blazer any other time of year that I would find it to be remotely acceptable. Clearly this is the work of holiday brain making me feel  warm and fuzzy toward all things festive.
And so when I fell in love with this outfit from the Gucci Resort 2012 collection I couldn't decide if it was true love or holiday brain-induced madness:
Objectively speaking, this outfit has a giant neck bow and a shiny accordion-pleated skirt – both things that I have previously ranted against here and here. But whether its the holiday brain or just a change of heart, I now find myself thinking I am in desperate need of a pleated skirt like this one (but preferably NOT on a Gucci budget).
So here are the candidates for your consideration:
Elie Tahari Francesca Skirt – $221.99
Pro: Cheaper than, but looks a lot like, the Gucci.
Con: Still a lot of money to pay for a skirt that I am unlikely to wear more than once or twice a year.
Pro: But it's SO FESTIVE!! And we LOVE FESTIVE SHINY THINGS!!!!!!!!
Con: Shut up holiday brain you are not helping here.
Ella Moss Debutante Skirt – $148
This color might be the exact opposite of the Gucci gold above. I do obviously like the idea that this color is much more versatile. And I think this skirt has a lovely, light, ethereal quality to it as well. But I'm worried that the combination of the neutral color plus the knee-length hem might read a little dowdy in real life.
Old Navy Micro-Pleat Full Skirt – $24.99
My holiday brain is loving the hot-pink color of this one. It is also loving the budget price tag given that it has already been spending a lot of money on holiday gifts for others (and myself). But my sane, rational fashion brain is worried that the shorter length of this skirt might combine with the pleats to make my hips look way bigger than they are. And if anything is going to make my hips look bigger this Christmas it will be all of the cookies and candy canes I will be eating, not some pleated skirt.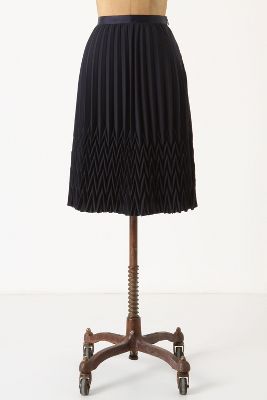 O by Organic Broken Pleats Skirt – $148
From a pure design standpoint I think this skirt is amazing. Love the zig-zag pleats at the bottom. But from a practical standpoint, I think the bold pleats and nipped-in waist could make this skirt hard for non-stick-figure women to pull off.
And now, drumroll please….. the accordion-pleated skirt winner is:
Mod Cloth Bold Flame Skirt – $42.99
Pro: Color is still festive so my holiday brain is satisfied.
Pro: Price is budget-friendly so my holiday wallet is satisfied as well.
Pro: Shape and length are versatile enough to wear with a blazer or turtleneck to work or with a sparkly tank top and cardigan for a night out.
On the whole I think I'm warming up to the idea of the accordion-pleated skirt. It could be a great way to break out of the pencil-skirt rut I fall into every Winter.
Sure, I still have concerns – like will they make my hips look gigantic? Will I look like I'm wearing a lampshade?  And what happens to all of those pleats in the back after a day of being flattened against my desk chair?
So my holiday brain and I turn to you fair readers – do we love accordion-pleated skirts?