First off – belated shout-outs to Travis and Emily Lamb on their recent showings in the Nashville Scene's annual Best of Nashville contest!! They rock (one of them literally) – so check them out. Congrats Lambs!!
Secondly – based on the recent subject matter of my postings I'm thinking of renaming this blog "Boots and Suits". Although I'm pretty sure this would lead to a very narrow readership – perhaps only cowboys who like to dress up on their nights off, or slutty Texas girls who like to wear bikini tops with cutoff jean shorts.
But in my never-ending quest to find suiting options I can live with, I present to you my next proposed alterna-suit: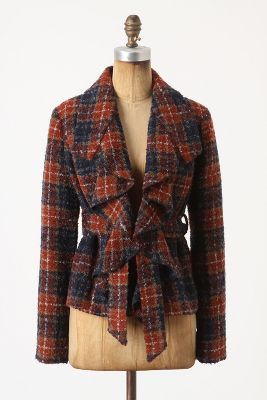 From the mothership
Now obviously a whole suit of this lovely tartan would be pure crazypants. Literally. Pants in this pattern would be crazy so please do not get any ideas Anthropologie. But paired with some pieces I already own (which are shown below) I think this could work:
When you consider that I already own the rest of the pieces, $148 for the jacket means $148 for a new suit. And that's a good deal. Plus I think it would be tres adorable with jeans, too, so yay for double-duty!
I think I'm sold – but what about you?