It's officially Christmas-time kids!! And I know that because A.) Thanksgiving is over and, B.) this commercial is in heavy rotation:
Best. Commercial. Ever.
And Christmas-time usually comes with Christmas parties – except for me. I have no Christmas parties. But if I did have Christmas parties, I would surely pick something involving sequins to wear to them – the sparklier, the better. (Seriously. I am attracted to all things shiny. I think I might have been a magpie in a previous life.)
But what do you do with all of your sparkly tops when the holidays are over? Sure you can shove them to the back of the closet and leave them there alone and unloved until next year. But I say nay! I say you can make any day a holiday with sequins.
Let's start with this top: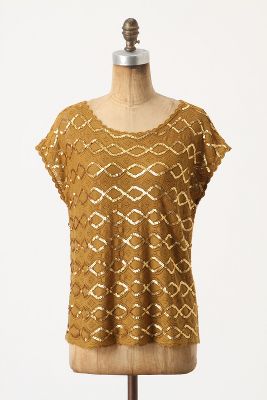 Paired with black skinny pants, a black velvet blazer, some brightly colored platform pumps and a leopard clutch this top would be tres fab for holiday cocktails with friends or even an office holiday party.
But I think we can all agree this top is far to pretty to be banished to some dark drawer once the merriment has come to an end. So here's how I would wear this top to work, even after the holiday season has come and gone:
Layer a black turtle under this top, tuck them both into a black pencil skirt, add colored tights, black booties and voila! Instant, work-appropriate chicness.
But lest you think our friends sequins can only be fancy, here's how you dress them down for the weekend:
This time layer the top under a warm, nubby cardigan, pair with skinny jeans and riding boots* and you're set.
*As an aside – is there anything that does NOT look good paired with skinny jeans and riding boots? I really think that old adage about someone being so pretty they would look good in a potato sack might be true if said potato sack was worn over skinny jeans tucked into riding boots.
The lesson here, kids, is not to be intimidated by sequins. Don't be afraid to buy that sparkly top for your holiday party just because you're worried you won't be able to wear it again – it CAN be done!*
*As long as you don't spill something on it. Which I would do. Which is why I always drink clear drinks at parties. You're welcome for the handy tip.  🙂