The year was 1991. All my little 7th grade heart wanted for Christmas that year was a pair of these:
And although I had to promise many, many days of clean rooms and made beds to get my Mom to agree to spend $70 on them (which at the time was an insane amount of money for jeans), come Christmas morning there was a navy blue pair of button-fly Guess jeans waiting under the tree.  I shudder to think about how high-waisted they must have been.
Thus began my short, but passionate love affair with Guess jeans. Over the next year or so I somehow also convinced my Mom to buy me two more pairs – in mustard yellow and for some inexplicable reason, dusty rose.
(PS – shout out to all the tall girls like me who desperately wanted the Guess jeans with the zippers on the ankles which for some reason only came in the petite length. Stupid short people have all the fun.)
Well kids – colored denim is back. So the question is – do we love it like we did once before?
The short answers, from L to R: Yes, No, Hell No, Maybe, Sure
As a way of dipping my toes slowly back into the colored denim pool, I bought this pair over the weekend: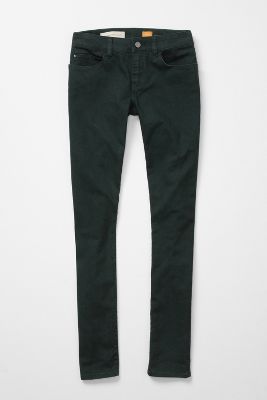 (from here of course)
They're a really yummy dark green that I think will look fab with a whole array of brown boots.  I plan to treat them like a neutral bottom just like I would any other denim and I can't think of many colors that wouldn't look great with them. Even that big bird yellow up there could work if deployed properly.