Several of my friends are having babies right now. The bad news is that they're all having boys. Why is that bad news? Because it deprives me of the opportunity to buy their future children giant hairbows, little frilly white socks, and black patent-leather mary janes.
The good news is that their having sons means I won't subjected to offensive 'mommy and me' outfits like these:
Here's the thing – if you are a grown woman with a child, you should not, under any circumstances, be wearing the same or similar outfit as that child. Period. This is something little girls do with their dolls. You do not want to be mistaken for a little girl with a doll.
Who do I blame for this mommy/daughter/babydoll epidemic? Lilly Pulitzer. (Those are her designs in the pic above.) In addition to being the purveyor of matchy-matchy outfits, LP is also a seller of 'whimsical' prints like monkeys with hula-hoops, green and turquoise tigers, and oh yeah, giant squid: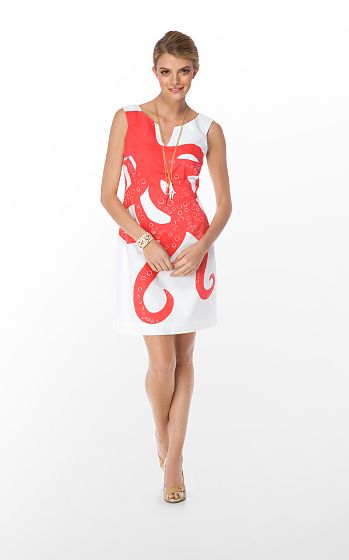 This is for real.
I mean, COME ON. There are good things happening here. The shape of the dress is charming. The combination of coral and white is lovely. There is no need to add a cephalopod.
And so, because of all of the above, I have always rolled my eyes whilst strolling past the LP sections of various department stores over the years. I'm sure there were sarcastic comments involved as well. But I recently discovered (on pinterest of course) an LP dress that might actually make me eat my words: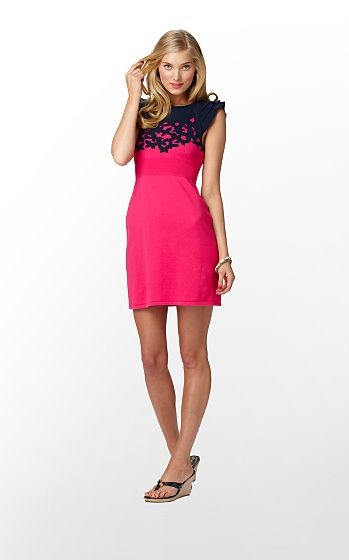 Lilly Pulitzer Kariana Sweater Dress – $198
I cannot believe how cute this is. Ordinarily I would never consider any clothing with butterflies on it to be 'cute'  for anyone over the age of 8. And yes, it's true that I originally thought those butterflies were just a lace pattern. But butterflies and all, I think this dress is totally presh.The only thing I really question is the practicality of a sweater dress for summertime in the South.
But what do you think? Is it time for me to make a Lilly Pulitzer purchase? Or is this dress really just deserving of an eye roll and more sarcastic commentary?