I really hope y'all aren't tired of 'listening' to me talk about Christmas and the holiday season yet. Because I hate to tell you – we've got eleven days to go and I'm just getting warmed up.
Saturday night marked my second official viewing of Love Actually this holiday season. To me, Love Actually is perfect. For the ladies it has Liam Neeson, Hugh Grant. Colin Firth and that hot guy that Laura Linney's character refuses to sleep with. For the fellas it has Billy Mack, Keira Knightly and a surprising amount of female nudity.
And while all of the stories make my heart all warm and fuzzy in their own way, I think this one is my favorite:
Because first she can't stop saying 'fuck' when she meets him and he just happens to be the Prime Minister.
Then this happens when he verbally kicks slimy President Billy Bob Thornton's behind after he dares to kiss his girl:
Then after he goes door-to-door to find her, they ride in a limo with an octopus:
And finally, their big, romantic first kiss is interrupted by a children's Christmas pageant.
Who among us can't relate to that?
Most importantly I think this story is my fave because Natalie, the girl who snags the love and affection of the Prime Minister who happens to look like Hugh Grant, is a normal-sized girl and not a Keira Knightley-sized waif. Kudos to the wardrobe department on this film who did a fab job of highlighting her curves with cardigan sweaters and tulip skirts. It's totally easy to see how Hugh could succumb to her 'charms'.
I have always been particularly obsessed with the white cardigan embroidered with black flowers and black tulip skirt she wears to deliver the chocolate biscuits to Hugh in his office. (I couldn't find a pic of that particular outfit but don't pretend like you don't all know the scene I'm talking about.) And I love, love, LOVE the sheer black hose with the visible seam up the back that she wears with them.
And so, it is with my Natalie-inspiration in mind that I present these: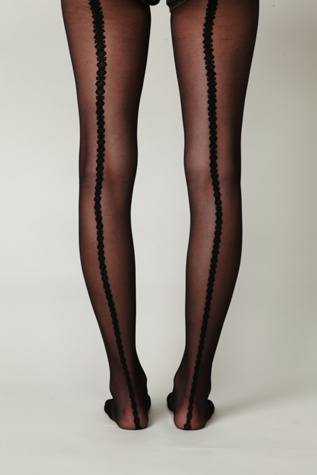 Free People Victorian Backseam Tight – $24
Now I'm not a girl who is afraid of a brightly-colored or patterned pair of tights. But my profession calls for a more conservative look for the courtroom and I'm thinking these would be a great way to add some interest to a suit in a subtle, appropriate way.
But what do you think? And what's your favorite Love Actually story?*
*Confession: I cry every time the little kid jumps into Liam Neeson's arms and does the Titanic pose in the airport. Every. Single. Time. Please don't tell anyone.