It's Monday morning and you know what that means – time for our weekly check-in with the 'new arrivals' section on Anthropologie.com!*
*That's the first thing everyone does when they get to their computers on Monday mornings, right?? You mean it's just me? Surely not.
Given my love of navy blue and lace, it's no surprise that this top is first on my list of new arrivals to love today: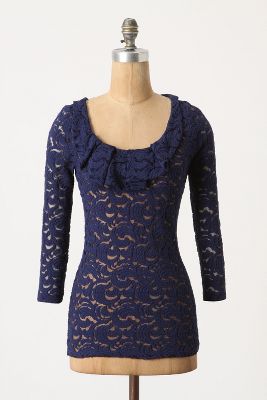 Now we've talked about my love of lace in the past – so let's talk about my love of navy blue. It is all-consuming. As a fairly pasty-skinned blonde, black is sometimes hard for me to pull off when it's right next to my face. Navy blue, on the other hand, always works as my go-to neutral.
But wait, what's this – the same top in totally gorge yellow-gold?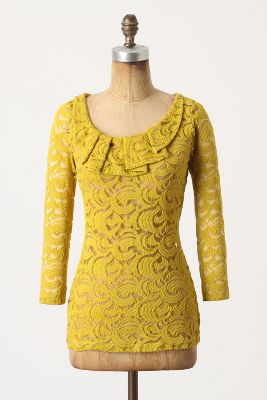 Uh-oh now I'm torn.
Yellow is a color that's not so easy for me to pull off as it has to be just the right shade. Too pale and it fades into my hair. Too bright and it makes me look consumptive. But this particular shade has worked for me in the past and I'm loving colored lace this season. What's a girl to do??
As an aside – is there anyone who looked at this top (in either color) and did not immediately realize you would need to wear a camisole underneath it? Because one of the reviewers on the Anthro website apparently did not:
"Holy Sheerness, Batman!, 
PostedNovember 30, 2011
Pros: beautiful staurated color
Cons: runs way small, see-through needs a cami, itchy
"I saw the blue version in the store yesterday and thought it was super cute and would great paired with the gold/blue tiled maxi skirt. I tried on my usual size Small, but it was extremely clingy and uncomfortable, not yo mention itchy and SUPER SHEER! Even sizing up to a Medium didn't make much of a difference in size. I looked like I was ready to work the streets. Too bad, b/c it's a cutie on the hanger!"
Bless. Her. Heart.