First off, I should say that I love Anthropologie. Seriously. Love. It. Like the sales associates know me by name and fight to be the one to get my commissions love it.
But every once in a while Anthropologie tries to force a trend or style on me and the rest of America that I'm just not sure about. This fall it looks like it's going to be the long-sleeved maxi dress as evidenced here, here, and against all that is tasteful and good in this world, here. (Seriously – My eyes. They burn.)
Now I love the look of a cute, summery maxi dress on the right girl in the summertime. But no matter how hard I try, that girl, unfortunately, is not me. This maxi dress, however, caught my eye in the latest Anthropologie catalog: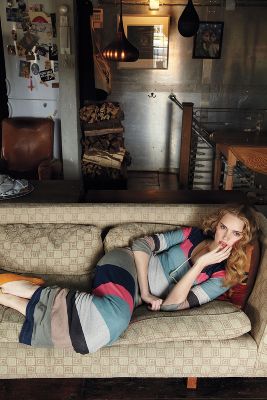 (Credit for image from Anthropologie)
This looks fantastic and comfy – two things I love in a dress. But does it look fantastic because it's on this model who is obviously A) beautiful, B) skinny and C) a giant? Or can we mere mortals wear this, too? After checking it out here, I'm not so sure.
So the Splendid Different Degrees Maxi dress – do we love it? Help me decide.